Wilmington
OS Grid Reference: TQ5371
The 1841 population was 845

"Wilmington is a parish and village, and suburb of Dartford, in the lathe of Sutton-at-Hone, Wilmington Hundred, and Union of Dartford, West Kent, pleasantly situated near the road leading from Dartford to Sevenoaks, and the river Darent, 1.5 miles south from Dartford station. The manor house in this village, which is remarkable for the beauty of its situation, was in the reign of Edward IV the residence of the king-making Earl of Warwick. Wilmington is beautifully situated and surrounded by gardens and cherry orchards. The church of St. Michael stands on the summit of a hill near the high road, and has been repaired and beautified; it has 3 bells and spire. The living is a vicarage, in the patronage of the Dean and Chapter of Rochester; the incumbent is the Rev. Frederick Heberden, vicar. Here is a National school, supported by voluntary contributions, for boys and girls. A fair is held annually, 23rd of April. The parish is 1,715 acres and 1851 population was 915. Description from directory c1852.

See NWKFHS publications West Kent Sources and School Records for further information.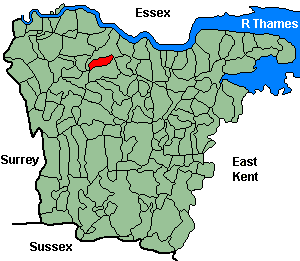 Census Publications
1851 Name Index and Page Images published on CD-Rom as part of CD8 (Dartford Registration District).
1851 Name Index (only) published on microfiche as part of Volume V (Dartford Registration District).
1891 Transcript published on CD-Rom as part of CD3 (Dartford Registration District).
For ordering details see Census CD-ROMs on the Publication List page.
Church and Chapels (pre 1910)